Having dogs is the great joy of many people's lives. That being said, chasing after those same dogs when they manage to escape their house or yard is a lot less joyful – especially as we get into the hot, humid summer months. Nobody wants to run down the street in their pajamas and flip flops after Fido! For this reason, a lot of people look to fences and dog runs to give their dogs a space to play and run off some of that extra energy without having the constant worry of whether they'll get off their leash/tie out or wander off unexpectedly. There are many kinds of fences, but people tend to gravitate to three main categories: chain link, wooden, and electronic. Each have their own unique set of benefits.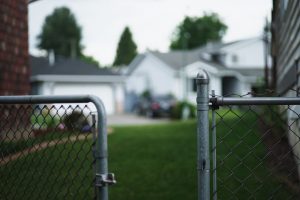 Chain link fences are common in new developments where everyone has a fenced yard. They can also be rubber-coated for a cleaner appearance. For dogs who aren't jumpers this may be a good option. If your dog is large, or just especially good at clearing the fence to escape, chain link fences may not be tall enough to keep them enclosed. Chain link fences can also be expensive to install. And, with time, they can become an eye-sore if they're not properly maintained.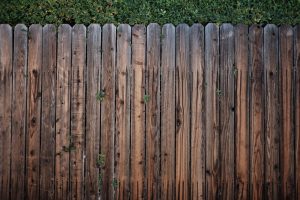 Wooden fences are a better option for dog owners with particularly jumpy pups. They tend to be taller in height, which can also be good for home owners who want more of a privacy fence for their backyard. Wooden fences are also very visually attractive, and you can stain or paint them to be exactly the yard feature you want. They do have downsides, as well. Wooden fences are one of the most expensive options – especially when you take continual upkeep into consideration. The wood tends to rot or mold, and it doesn't always stand up to heavy snow or high winds.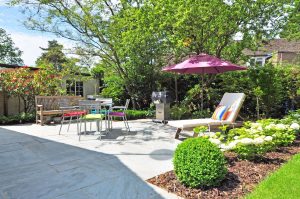 Finally, there are electronic fences. Electronic fences are usually installed in-ground, although options do exist for having them above-ground. In electronic fence situations, dogs wear a collar that emits a warning sound, followed by an electric pulse when they get too near their designated boundary. The collars are completely customizable to match your pet's size and personality. Electronic fences are convenient for people who, because of HOA rules or regulations, can't install a physical fence around their yard.
Additionally, electronic fences are a great option for people who:
a) Want to keep their dogs limited to one section of a large property.
b) Enjoy the area surrounding their home and don't want to block it off with a fence or barrier.
c) Don't want the upkeep a physical fence requires but still want a way to keep their dogs safely enclosed and close to home.
d) Have dogs who are boundary-protective.
With an electronic fence, you can zone off an area for your dogs that won't be accessible to people passing by alone or with other dogs. This can help eliminate your dog's anxiety as well as your own nervousness about letting them out in the yard. At St. Louis Dog Fence, we sell and install electronic fences because we genuinely believe they're the best option for most dog owners. They offer so many different possibilities for fencing your dogs, and the different products we sell open many options so you can best match your electronic fence and collar to your dog. Finally, because electronic fences are usually below ground, they aren't as heavily impacted by bad weather or daily wear-and- tear. Some maintenance will be required over time, but generally the initial and ongoing costs are much lower than that of a physical fence or barrier.
Electronic fences, while great for many reasons, aren't the answer for everybody. The convenience of a physical fence or barrier is often necessary for busy families. Electronic fences do require some training with your dog upon the initial installation so that they "get" it. Most dogs pick up on their new boundaries right away, which makes the training period relatively short. Still, for dog owners looking for a quick option that allows them to let their dog outside without worrying, electronic fences may not be a good choice. Finally, some dogs that have been previously abused or have come into your loving care due to unsafe situations may not respond well to the initial warning sounds or pulse that comes with an electronic fence – and that's okay. There are other options for you and your furry friend.
Deciding what kind of enclosure you want for your dog and your living space is a big decision. No matter what you end up choosing, it's a good move on your part to find a way to let them run freely without the excessive freedom of running away. Way to go, pet parent!