Premium Health Food for Puppies & Adult Dogs
---
Life's Abundance Premium Health Food is made with select ingredients, including high-quality chicken and catfish meals, whole grains, nutritious vegetables and fruits, omega fatty acids and much more. We never use corn or wheat products and we never use artificial flavors or colors. With Life's Abundance, you can be confident that you are feeding your dog advanced nutrition.
We use only fresh, natural, wholesome ingredients!
Chicken Meal, Fish Meal, Carrots, Apples, Spinach, Celery, Alfalfa Meal
Ground Brown Rice, Powerful Antioxidants, Live Probiotics, Chelated Minerals
NO Chemicals, NO Fillers, Nothing Artificial

Feed Life's Abundance Pet Food for 30 days and if you're not
100% satisfied, we will give you a Full Refund!
100% Natural, Wholesome Pet Food
Powerful Antioxidants like Pomegranate Extract
Pure Digestible Protein Sources
Chelated Minerals for 40% better absorption
Five Live Probiotics(friendly bacteria)
Omega 3 Fatty Acids for a healthy skin and coat
FRESH your food is never more than 6 weeks old
Made in an APHIS certified USDA Plant
Take the Life's Abundance Challenge!
Check your pet's food for any of these ingredients:
Chemical Preservatives – BHA, Ethoxyquin
By-Products – beaks, feet, feathers, heads
Corn, Wheat, or Soy – known allergens
Artificial Coloring or Flavor
Beef fat – Indigestible fat
Sugars or Corn Syrup
Animal Digest – guts
If your pet food contains any of the above items, then you need to switch to Life's Abundance TODAY!
NO Steroids, NO Hormones, NO By-Products
NO Artificial Colorings, NO Corn, Wheat, or Soy, NO Chemical Preservatives

Compare Ingredients: Dog Food Cat Food
with Nutro Natural, Purina Pro Plan, Purina One, Science Diet, Wellness, Flint River, Beneful, Eukanuba, Iams, Natures Recipe
---
Porkie Hide Pork Treats

Few things bring your dog more enjoyment that chewing on a tasty treat. And yet, every year, untold numbers of dogs suffer from a variety of digestive issues as a result of consuming rawhide. Not only that, but frequently rawhide is preserved with harmful chemicals.
That's why we developed a line of chew treats made using pork products, which are much easier on your dog's entire digestive system and are free from potentially harmful chemicals. Our pork treats are guaranteed to be not only safe, but incomparably appetizing to your sweet pup as well.
Whether you have a Chihuahua or a Great Dane, there's a pork treat made just for their size. So, say "goodbye" to traditional chew products, and give your dog something he or she can really enjoy – safely!
Daily Nutritional Supplements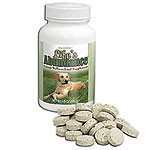 You want to ensure the well-being of your canine companion. But it may not be a simple matter to determine which nutrients are required for optimal health. You see, no two dogs are the same, due to a variety of factors, including differences in breed, life stage, health needs, personality, living environment and level of activity. In part, it is due to your dog's unique health requirements that adding a dietary supplement to their daily nutritional intake is more important than you might think.
While feeding a wholesome, nutritious food like Life's Abundance can make an enormous impact on the health of your dog, supplements are a necessary component in fulfilling the individual dietary requirements of your pup. Working with our veterinarian product formulator, Dr. Jane Bicks, we have developed three unique formulas to target specific needs: Agility for healthy joints, Skin & Coat for healthy skin and a glossy coat, and Advanced Daily Supplement for an improved immune system.
---

Shipped Fresh to your door!
Lifes Abundance Natural Pet Food is not sold in stores.
Your pet food will never be old.
Your order will arrive via UPS and is usually never more than 6 weeks old.
---
Ask the Vet!

Dr. Jane Bicks
Join in on a LIVE National Conference call with Dr. Jane Bicks every
other Wednesday eve. at 8:30pm Eastern time. Dr. Bicks is the formulator
of Life's Abundance natural pet food and invites all of your questions.
The number to call is (712)-580-0380, pass code is 626116#
at 8:30pm Eastern