Electric Dog Fence Universal Remote Trainer
Call us about the new remote trainer compatible with all brands of dog fences.
F
or thirty years the electronic pet fence has provided safety and security to millions of pets from trusted brands such as Pet Stop®, Invisible Fence®, PetSafe® and more. Now you can have confident control of your dog's behavior at home or where ever you go. Experience the same peace of mind your pet fence provides away from home with the patented Pet Stop Universal Trainer for your new or existing fencing system.
The Universal Remote Trainer can quickly and easily help you solve frustrating behavior problems such as jumping up, stealing food, excessive barking or not coming when called. With the push of a button you'll be rewarding your dog's good behaviors with a calming vibration or discourage bad ones using the brief attention getting pulse.
Whether its replacement batteries, pet fencing collars or the all new Universal Remote Trainer, you can trust Pet Stop – the world's leader in fully compatible fencing solutions.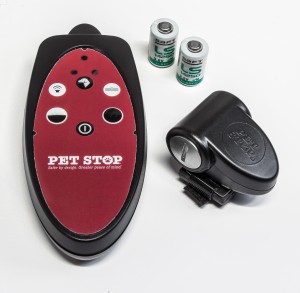 ---