We proudly service and install pet doors the following Missouri counties:
St. Louis, St. Charles, Warren, Lincoln, Jefferson, and Franklin Counties.
Call 314-436-7200 or email for pricing.
We can meet or beat most internet prices.
We are stocking dealer for Hale Pet Doors and Plexidor.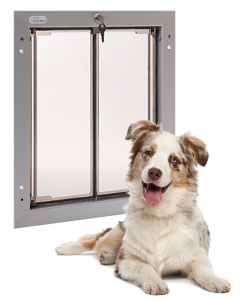 All of our doors are professionally engineered and manufactured from quality materials to be the very best: quiet, energy-efficient, completely secure, long-lasting and most importantly safe and easy for pets to use.
We have dog and cat doors for most applications, doors, wall units through brick or siding. We also have doors for screen doors and glass sliding doors. If you can't find what you are looking for give us a call we can custom manufacture a door specially for your needs.
All doors have a manufacturer warranty and replacement parts are available.
All our pet doors, electronic doors will work with your electronic, underground dog fence.